Biomaterials 2020
About Conference
We take enormous pleasure and feel valued in inviting the members over the globe to frequent Biomaterials and Biomedical Engineering 2020 during October 05-06, 2020 which comprises prompt keynote presents, Oral communications, Poster performances, and Exhibitions.
Theme: COVID-19 Challenges for Biomaterials and Biomedical Engineering
This scientific experience offers the best platform with its well organized scientific meetings to the audience which comprises interactive panel discussions, keynote lectures, plenary talks and poster gatherings on the subjects like Polymer Biomaterials, Dental Biomaterials, Advanced Biomaterials, Properties of Biomaterials, Biomaterials Applications, Biomaterials Companies and Market Analysis, Biomaterials and Nanotechnology, Tissue Engineering and Regenerative Medicine, Biomaterials in Delivery Systems, Biomaterials in Biological Engineering, Biodegradable Biomaterials, and 3D Printing of Biomaterials. We are assured that the Biomaterials Euroscion that has started with "Biomaterials and Biomedical engineering 2020" will gain remarkable and consistent success in the future.
Why Should I Attend?
Biomaterials and Biomedical Engineering 2020 conference acts as a podium for bridging the gap between Academia and Industry through discussion on innovative research methods in Biomaterials Science. The conference gives the best opportunity for meeting with Industrial experts, Academic speakers, Pharmaceutical Companies, Decision-makers, interacting, and defining novel prospects in the Biomaterials business. It helps in dynamically adding value to biomedical, pharmaceutical, R&D businesses. Novel approaches and applications about biomaterials like the gene/drug delivery systems development and industrializing insights & gain the latest technologies about novel biomaterials and bio-nano materials.
It emphasizes on novel approaches for biomedical applications and up-to-date appraises to drive your market share accordingly. Learn on the applications of innovative biomaterials and other alternatives for treating major diseases to progress the materials portfolio industrialization pathways. Biomaterials as a field have seen steady growth over its approximately half-century of existence and use ideas from medicine, biology, chemistry, materials science, and engineering. There is also a powerful human side to biomaterials that considers ethics, law, and the health care delivery system. The biomaterials market is expected to reach USD 149.17 Billion by 2021 from an assessed USD 70.90 Billion in 2016, at a CAGR of 16.0%. The development of the overall biomaterials market (Metallic, Ceramic, Polymers, and Natural) can be attributed to increased funds & grants by government bodies worldwide.
MARKET ANALYSIS
The Biomaterials and Biomedical engineering market size was valued at USD 56.70 billion in 2015. Biomaterials and Biomedical engineering is expected to witness substantial growth in the next eight years owing to their various capabilities of performing under extreme conditions, with a high degree of industrial efficiency.
The worldwide graphene-based items market to be worth $1.5 million of every 2015. The market should keep on growing from $310.4 million of every 2020 to $2.1 billion by 2025, with a compound yearly development rate (CAGR) of 46.3%.
The market rate for 3D printing materials should reach $2.4 billion by 2023 from $845.7 million of every 2018 at a compound yearly development rate (CAGR) of 22.8% from 2018 to 2023. The worldwide market for progress electronic materials will develop from $5.4 billion out of 2018 to $11.9 billion by 2023 at a compound yearly development rate (CAGR) of 17.0% for the time of 2018-2023.
Global Markets of Biomaterials:
The biomaterial market consists of all types of biomaterials such as ceramics, composites, biodegradable, orthopedic, etc. The market is expected to reach $130.57 billion by 2020, at a growth of CGAR of 16% from 2015-2020 forecasts. Biomaterials have applications in the field of oncology i.e., the study of prevention, treatment of cancer. Some biomaterials companies which are included in the global biomaterials market are like Zimmer Biomet Holdings, Inc. (U.S.), Bayer AG (Germany), Carpenter Technology Corporation (U.S.), Covalon Technologies Ltd. (Canada), Evonik Industries AG (Germany), BASF SE (Germany), Invibio Ltd. (U.K.), Berkeley Advanced Biomaterials, Inc. (U.S.), CAM Bioceramics BV (Netherlands), and Collagen Matrix, Inc. (U.S.). The global orthopedic biomaterials market is poised to reach $38,100.2 million by 2020 from $22,074.0 million in 2015 at a CAGR of 11.5% from 2015 to 2020.
Global Market report of Powder Metallurgy
The powder metallurgy industry, which was extremely influenced by the 2008– 2009 subsidence, most remarkably because of the decrease in car creation, recouped, and outperformed pre-retreat levels. The market of powder shipments should achieve 4.7 billion pounds and $10.9 billion by 2022 from 3.6 billion pounds and $7.3 billion of every 2017 at a compound yearly development rate (CAGR) of 5.2% and 8.2%, individually, from 2017 to 2022.
The market of worldwide powder metallurgy part shipments is relied upon to develop from 3.2 billion pounds (in volume) and $15.1 billion (in esteem) in 2017 to 4.1 billion pounds and $22.6 billion of every 2022 at a CAGR of 5.2% and 8.4%, separately, for the period 2017-2022. Shipments of individual powders and parts, for example, iron and steel powders, and in addition parts produced using these powders, are required to develop at a 4.6% CAGR in volume terms from 2017 to 2022.
Significance and Scope:
Materials Science and engineering is a syncretic order hybridizing metallurgy, Ceramic production, solid state physical sciences, and Chemistry This creating field includes researchers from a wide range of controls, including physicists, Material Science experts, Ceramic engineers, scientific experts, engineers, data technologists and material Researchers, and scholars. Ceramics engineering is being connected to relatively every field possible, including hardware, magnetics, data innovation, materials improvement and biomedicine. EuroSciCon International Conference on Biomaterials and Biomedical Engineering Conference will be a typical stage for Researchers, Scientist, pioneers, pursuers, teachers, Industry Leaders, understudies and general students to present and trade thoughts identified with materials and sciences advances. We are satisfied to welcome all of you to the EuroSciCon "Biomaterials and Biomedical Engineering Conference 2020" which is going to held on May 11-12, 2020.
LEARN MORE
Biomaterials Research:
There is a market growth of more than US$ 149.17 Billion by 2021 at a CAGR of 16% in the given forecast period of biomaterials global market is expected. Growing of geriatric inhabitants worldwide, increase in incidence of diseases, graft transplant surgeries; medical implants and technological advancements will drive the market growth. Adverse reactions of biomaterials and strict regulatory requirements are the hampering factors favouring the market growth. Biomaterials market includes major driving factors like increase in demand of dental demands, increase in knee and hip replacement surgeries, research interest and development of biomaterials and advancement in medical innovation. Biomaterials is also having a high demand in wound healing technology and in surgeries.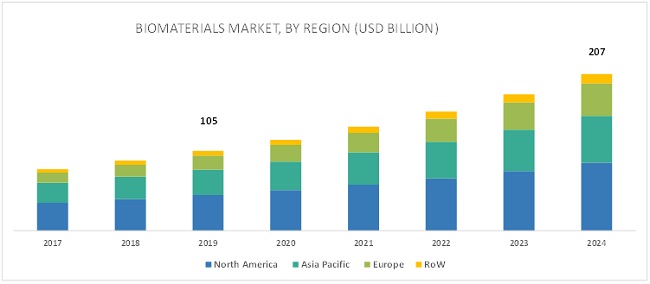 The global stem cell market is anticipated to succeed in USD fifteen.63billion by 2025, growing at a CAGR of nine.2%, consistent with a brand new report by Grand read analysis, Inc. Augmentation in analysis studies that aim at broadening the utility scope of associated product is anticipated to drive the market growth. These analysis comes have opened the chance of implementation of many clinical applications of those cells, thereby impacting disease-modifying treatments. Scientist's are engaged in discovering novel strategies to form human stem cells. This is often to handle the increasing demand for stem cell production for potential investigation in illness management. This issue is definitely expected to accelerate the event of regenerative medication, so driving industrial growth.
Europe: European Society for Biomaterials, UK Society for Biomaterials, Romanian Society for Biomaterials, Hellenic Society for Biomaterials, Italian Society for Biomaterials, Euro Stem Cell (European Consortium for Stem Cell Research) ; Cambridge Stem Cell Initiative United Kingdom ; Swiss Stem Cell Network Switzerland ; National Cancer Research Institute United Kingdom ; Danish Stem Cell Society.

Asia: The Korean Society for Biomaterials, Japanese Society for Biomaterials, Chinese Society for Biomaterials, Stem Cell Society Singapore; Malaysian Thoracic society ; Korean Society for Stem Cell Research ; Japanese Society for Regenerative Medicine
USA: Society for Biomaterials, Canadian Biomaterials Society, International Society of Biomedical Polymers and Polymeric Biomaterials (ISBPPB), New York Stem Cell Foundation ; International Society for Cellular Therapy USA ; Stem Cell Clinical Trials USA ; International Society for Stem Cell Research USA

Societies and Associations for Biomaterials and Stem Cell across Globe:
European societies for biomaterials
Scandinavian Society for Biomaterials
Australasian Society for Biomaterials and Tissue Engineering
Polish Society for biomaterials
Korean society for biomaterials
UK society for biomaterials
Romanian society for biomaterials
Society for biomaterials and Artificial organs
Italian society for biomaterials
International Society for Stem Cell Research
Global Stem Cells Group
International Society for Cellular Therapy
International Stem Cell Research
New York Stem Cell Foundation

Top Universities around the Globe:
University of Washington/Hutchinson Cancer Center
Oregon Stem Cell Centre
University of California Davis
King's College London
Cambridge university
Oxford University
Middlesex University
University of Glasgow
University of Manchester
University of Edinburg
Charles university
University of Uppsala
University of Bristol
University of Italy
Imperial college of London
Bakers laboratory centre
Max plank Davis centre
University of duke
Stanford University
Leading Biomaterials and Stem cell companies across the Globe:
Green Biologics
Ectica Technologies
Living Ink Technologies
Mango materials
CustoMem
Thync
Modern Meadow
Hylomorph AG
Lanza Tech
Cellspring AG
INOFEA GmbH
SUN Bioscience
MicroDuits
Columbia medical school
The Mayo clinic
Regenexx Clinic
EmoryAffiliated to Suzhou University Children's Hospital
Beijing Puhua International Hospital
Elisées International
EmCell
Global Stem Cells
The top steel producing companies are as follows

Deputy Synthes
Storaenso, Geistlich Biomaterials
EPL Archives
Biomimetik
Ingredion
Grifols
InspireMD, SI-BONE
PolyActiva
Universal Biosensors
CROMA
GI Dynamics
Ondine Biomedical
Atritech
Flen Pharma Toxikon
AngioDynamics
Noble Material
Accuray
Recorders & Medicare Systems (P) Ltd, Siemens
Biomedics
Bayer Health Care-Diagnostics